DAY 1: ARRIVAL, BANGKOK (6:30) – PARO (09:55)
Welcome to Bhutan, "The Land of the Thunder Dragon". Flying into the country's only airport, in the beautiful valley, the clear mountain air, forested ridges and imposing monasteries provides a breath-taking first impression.
Upon arrival, your tour executive from Bhutan Endless Journey welcomes you at the airport and transfers you to Thimphu (1.5h drive). The drive follows Pa Chhu downstream until Chuzom where the two rivers meet, and here you can see the three different styles of stupas or chortens commonly found in Bhutan: Nepalese, Tibetan and Bhutanese. The chortens are Buddhist reliquaries, memorials to the teachings of the Buddha. Sometimes actual relics of the Buddha or revered monks are inserted into the dome of the stupa, and the stupas mark the landscape with reminders of the Buddha's teachings.
Arrive in Thimphu. Check in hotel, have lunch and take a short rest. In the afternoon visit:
Memorial Thimphu Chorten: This stupa was built in 1974 to honor the 3rd King of Bhutan, Jigme Dorji Wangchuck. This religious structure, circumambulate only in a clockwise direction (reciting prayers and whirling the large red prayer wheels).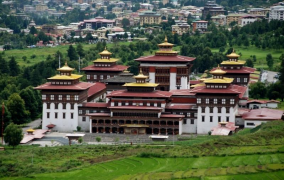 Thimphu Dzong
Tashichho Dzong (Thimphu Dzong): This is the main Secretariat Building, where the government ministries, the office of His Majesty the King, the Throne Room, the offices and living quarters of the monk body and its Chief Abbot are housed. The massive fortress, whose name translates as the fortress of glorious religion, was initially a smaller structure but took the present form after expansion/reconstruction commissioned by Late Majesty King Jigme Dorji Wangchuck in 1965. It is also the summer residence of Chief Abbot.
Overnight in Thimphu (alt. 2,300m).
DAY 2: THIMPHU – WANGDUE (RINCHENLING BUDDHIST
COLLEGE, KOTOKHA) After breakfast, start the incredible drive up to the 3,150-meter-high mountain pass of Dochu La with its forests of fluttering prayer flags, maze of memorial chortens and, on a clear day, sweeping views of the main Himalayan range. Stop to walk around the Druk Wangyel Chorten in Dochu la pass. Continue the drive to Wangdue Phodrang.

Experience overnight in beautiful Rinchenling Monastery in Khotokha village. Khotokha is a large glacial valley with few inhabitants and many sacred sites. All the settlements are in the valley floor where most settlements are subsistence farmers and mostly involved in potato cultivation. Deep inside the pine forests and on top of hills there are sacred monasteries and hermitages. The valley floor stretches for miles, there are many possibilities for doing trekking with visits to sacred sites, remote villages with scenic beauty. You can light butter lamps with stone burners in the caves. In the evening, interact with the monks, see their daily chores, attend the regular ceremonies and even talk to monastery's high lama. Overnight in monastery.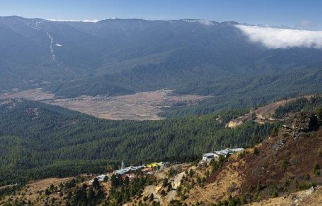 Do note, rooms inside the temple are basic and simple. To accommodate 25 people, 3 – 4 persons have to share rooms. The teaching will be conducted in Bhutanese language.
DAY 3: WANGDUE/KHOTOKHA VILLAGE – PUNAKHA
In the morning, attend the early morning prayer with the monks. After breakfast, we will drive to Punakha, Visit Punakha Dzong (fortress). This fortress is located between the male (Pho) and female (Mo) rivers. It was built in 1637 and still serves as the winter residence for the monastic body.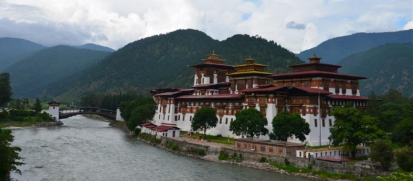 After Lunch, take a 40 minutes' hike round trip through the rice field to Chimmi Lhakhang, the 15th-century monastery built by Lam Ngawang Chogyal on the spot where his cousin Lam Drukpa Kuenley (popularly known as "the Divine Madman") subdued a powerful demon. This monastery is also referred to as the "Abode of Fertility" and believed that any couple who gets blessing from this temple is blessed with a child in the next year or so. Overnight in Punakha.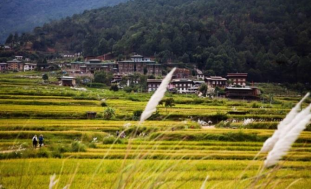 DAY 4: PUNAKHA – PARO (3.5 Hrs)
After breakfast, drive back to Paro taking the same route crossing Dochula Pass. In Paro, visit Paro Rimpung Dzong – regal and imposing, dzongs are arguably among the most distinctive and important structures in Bhutan. This Dzong is the headquarters of the Paro district, housing the head administrator and staff, as well as a monastic body with about 200
monks. A quick descent takes us to covered cantilever bridge marked with giant chortens built in 1980's by Royal Grandmother in memory of late majesty (3rd King).
From the dzong, hike down to the bridge and then take a short drive for an opportunity to explore the town of Paro. Pena Lhakhang is ignored by most visitors but is said to have been founded by Tibetan King Songtsen Gampo in the 7th century, making it one of the oldest temples in Bhutan. The main inner sanctum certainly has an ancient feel, dominated by a statue of Jowo Nampar Namse that is said to have the power to fulfil wishes. The red-faced protector Pehar lurks in the corner, while to the left of the chapel is the stone footprint of a former Zhabdrung. Do note that Pena temple is under a private ownership.
Before returning to the hotel, visit Kyichu Lhakhang. It is one of the oldest and most sacred shrines of the Kingdom dating back to 7th century (the other is Jambey Lhakahng in Bumthang). The lhakhang complex is composed of two temples. The first temple was built by Tibetan King, Songtsen Gampo in the 7th century and in 1968, H.M. Ashi Kesang, the Queen Mother of Bhutan, built the second temple in original pattern. Overnight in Paro (alt. 2,300m).
DAY 5: HIKE TO TAKTSHANG MONASTERY (Tiger's Nest)
After breakfast, you will be driven to the starting point of a hike to view the spectacular Taktsang Monastery (Tiger's Nest). The trail to the monastery climbs through beautiful pine forests, passing trees festooned with Spanish moss, and an occasional grove of fluttering prayer flags.
After a refreshment stop at a cafeteria on the way, you will continue for a short distance until you see, across a deep chasm but clearly and seemingly within reach, the Taktsang Monastery.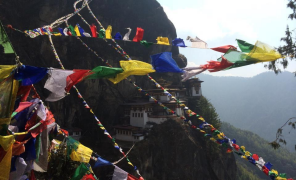 Taktsang Monastery (Tiger's Nest in Paro, Bhutan)
Built in 1600s, this incredible monastery clings to the edge of a sheer rock cliff that plunges 900 meters into the valley below. History states that Guru Padmasambhava, the Tantric mystic who brought Buddhism to Bhutan, landed here on the back of a flying tiger.
Overnight in Paro (alt. 2,300m).
DAY 6: DEPARTURE, PARO – BANGKOK – SAIGON
After breakfast in the hotel, your tour executive will transfer you to the airport on time to catch your onward flight. Your escort from Bhutan Endless Journey bids you farewell.
End of services. Tashi Delek !!!
TOUR NOTES:
• Our itinerary is generally longer and has more activities listed on each day. You should discuss your itinerary with your guide and prioritize the attractions which you prefer the most. We suggest that you use your itinerary as a guide rather than a fixed schedule. Unexpected stuffs always happen in the Kingdom of Bhutan.
• Please note, roads are bumpy and we suggest you to bring your own medication if you have motion sickness.
• Monastery, temple and Dzong opening days and times can and do vary with national holidays and events such a visit by a member of the Royal Family or auspicious ceremonies.
• Tiger Nest closes at 4pm every day.
• Visiting time of monuments, 09:00 AM – 05.00 PM except for Thimphu Dzong. Thimphu Dzong visiting time, 05:30 PM – 06:30 PM. Museums remain closed on weekends and Takin preserve center is closed on Monday.
• Most of the meals are served in buffet.
• We advise you to bring good walking shoes, warm jackets, hats and sun cream. • The nearest hospital is 20 or 30-minute drive. Consultation, treatment and medicine are free to locals and tourists too.
HOTELS IN BHUTAN
CITIES
HOTELS
HOTEL

CATEGORY

ROOM TYPE
THIMPHU
HOTEL TASHI YOEDLING OR SIMILAR
3 STAR
STANDARD
PUNAKHA
ZHINGKHAM RESORT OR SIMILAR
3 STAR
STANDARD
PARO
KHANGKHU RESORT OR SIMILAR
3 STAR
STANDARD
WANGDUE
RICHENLING MONASTERY
BASIC
WHAT TO BRING
1. Warm jackets
2. Hiking/trekking boots
3. Slippers (some hotels don't provide)
4. Long and short t-shirts or cotton shirts
5. Hats and sunglasses
6. Personal medicine.
DRESS CODE FOR VISITING DZONG, MONASTERIES AND TEMPLES
1. Shirt (either collar half shirt or full sleeve)
2. Full pants/long skirts
3. Any type of walking shoes
4. Photographs allowed in the courtyard only.
APPROXIMATE TEMPERATURE
1. MAX: 18 – 30 DEGREE CELSIUS IN SUMMER
2. MIN: (minus) 5 – 11 DEGREE CELSIUS IN WINTER
CANCELLATION CHARGES FOR YOUR TOUR PACKAGES (LAND TOUR)
• More than 30 days – No Charges
• Within 25 days – 50% of rate
• Within 15 days – 75% of rate
• Less than 10 days or without notice – 100% of rate
Please note that airlines have different cancellation policy, depending on seasons.
PRICE INCLUDES:
✓ 3-star accommodation (twin sharing/triple room).
✓ Lunch in local restaurants/hotels with mineral water.
✓ Experienced English Speaking Tour guide licensed by Tourism Council of Bhutan. ✓ Private transport within Bhutan.
✓ Museum & Monuments entrance fee.
✓ Sustainable Development fee & Tourism Development Fund
✓ Visa Fees
✓ International Airfare (BKK- PARO-BKK).
SERVICE NOT INCLUDED
1. Travel and Medical Insurance.
2. Bar bills, telephone bills, laundry, Beverages and personal expenses. 3. Tips $10 / guest / day.
4. Other Outbound flight tickets
Should you have any further questions, please feel free to contact us at [email protected] or call/viber +975 1793 4039 (Mr. Tenzin), +84 90 333 5657 (Ms. Nga Doan).
Thank you for choosing Bhutan Endless Journey.
Tenzin Wangchuk (Mr.)
Founder / Managing Director