DAY 1: ARRIVAL IN PARO
Provided the weather is good on your flight from Bangkok, the view of the eastern Himalayas is spectacular. Your tour guide will welcome you and transfer you to the hotel.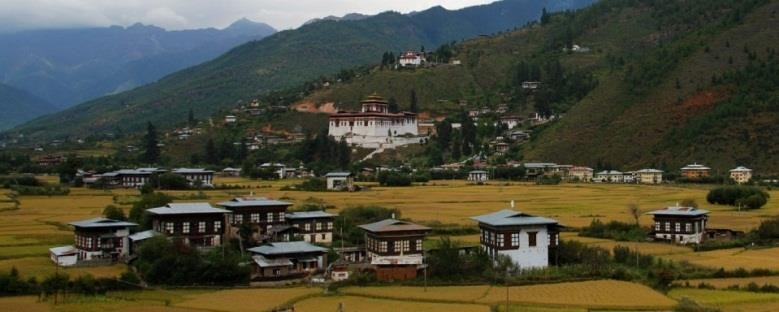 In the afternoon, embark on a private guided tour of the city including the first Nation Museum of Bhutan, Ta Dzong (Watch Tower). It offers great views of Paro Rinpung Dzong and Paro valley. Continue exploring the region with visit to Paro Rinpung Dzong, a quick descent takes us to covered cantilever bridge marked with giant chortens built in 1980's by Royal Grandmother in memory of late majesty. Overnight in Paro.
DAY 2: PARO – BUMTHANG/JAKAR (domestic flight)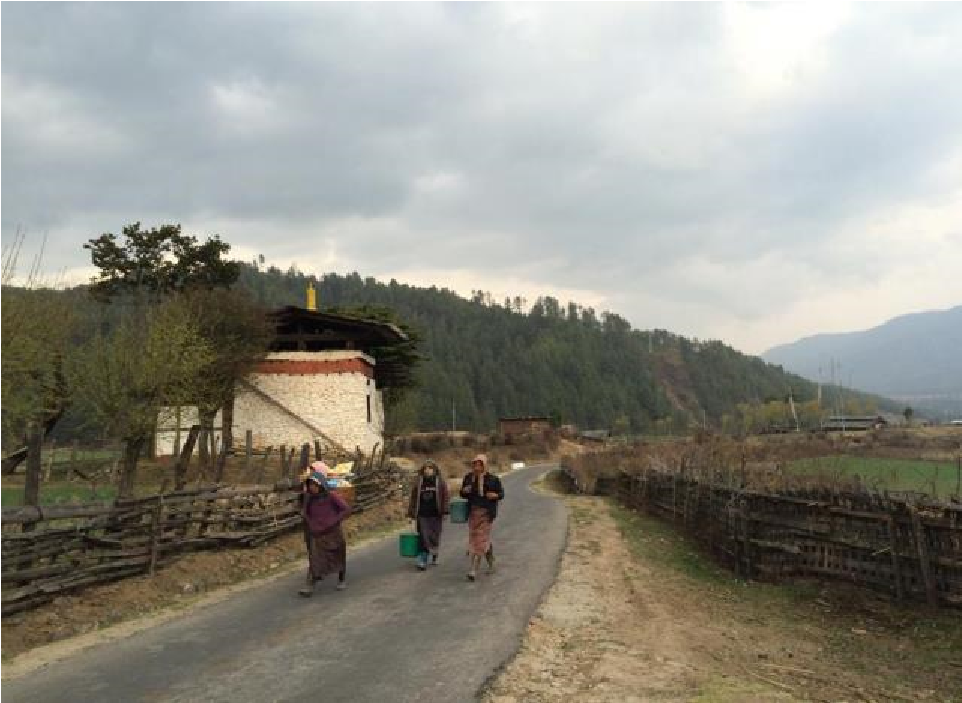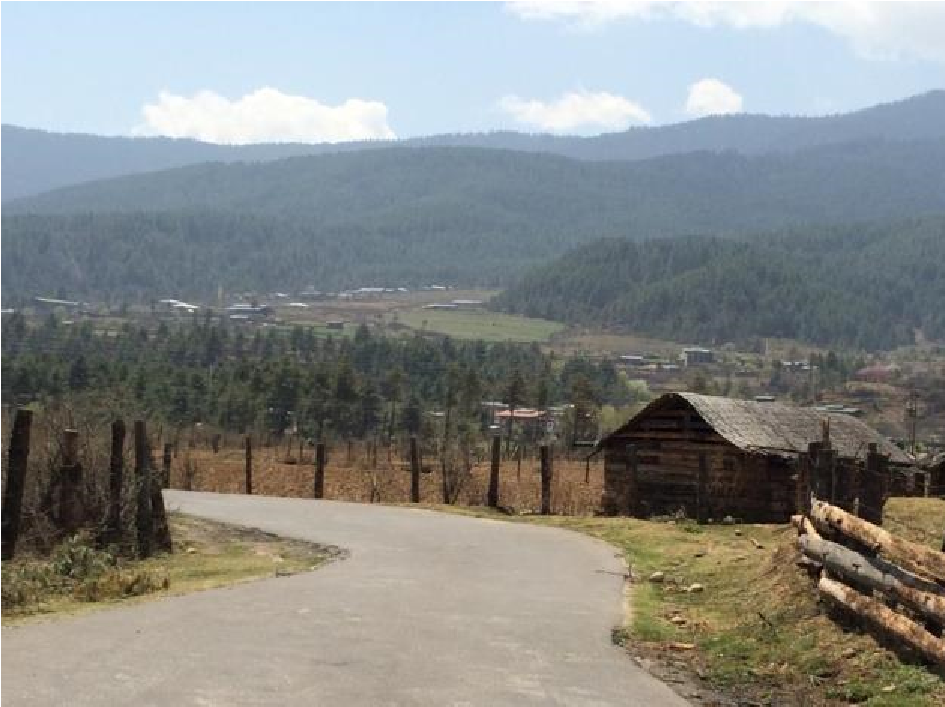 After breakfast, your tour executive will transfer you to the airport, for your domestic flight to Bumthang. This 20-minute flight will provide you the best view of Himalayan Mountains and valley of Bhutan (weather permitting). Bumthang is the general name given to a group of four valleys – Chumey, Choekhor, Tang and Ura, with altitudes varying from 2,600 to 4,000m.
Continue exploring the incredible Bumthang region. The area is of great spiritual significance in Bhutan, being strongly associated with local myth and legend. Bumthang is famous for the production of honey, cheese, apples, apricots and Red Panda beer.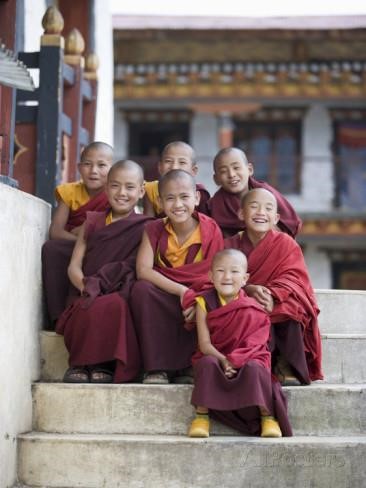 Bumthang also known as Jakar, "the castle of the white bird" is the most spectacular valleys in Bhutan. In the morning we will visit Kurje Lhakhang, one of the most sacred places in the kingdom as Bhutan's "patron saint", Guru Rinpoche (Padmasambhava) meditated here.
There is endless variety of excursions in Central Bhutan, your guide will help you plan day walks, and visit to the oldest temple in Bhutan, Jampa Lhakgang built in 7th century. Also, walk to Wangdichholing Palace and the impressive
Tamshing Temple on the western side of the Bumthang Chhu River. Overnight in Jakr/Bumthang.
Picture: Young Buddhist monks (Karchu Dratsang monastery).
DAY 3: EXCRUSION TO TANG VALLEY IN BUMTHANG
After breakfast; ride up the hill on the farm road to Tang valley and visit the mystical Ugyen Choling Palace. Ugyen Choling is a national treasure. Its remote location makes it the less frequently visited historical sites in Bhutan. Restored in 19th century, it houses a family museum, a place that will transport visitors to another world and time. The visitors will view permanent exhibits recreated to capture the ambience of the lifestyle of the Trongsa Penlop (Govenor) and his household. It also serves as retreat for those engaged in religious history.
En route, short hike to Menbar Tsho (the burning lake), it is considered to be one of the greatest pilgrimage sites in Bhutan. Pema lignpa found several of Guru Rinpoche hidden treasyres here. The importance of this site is indicated by the extensive array of prayer flags and the small clay offerings called Tsa Tsa. In evening, drive back to Bumthang. Overnight Bumthang.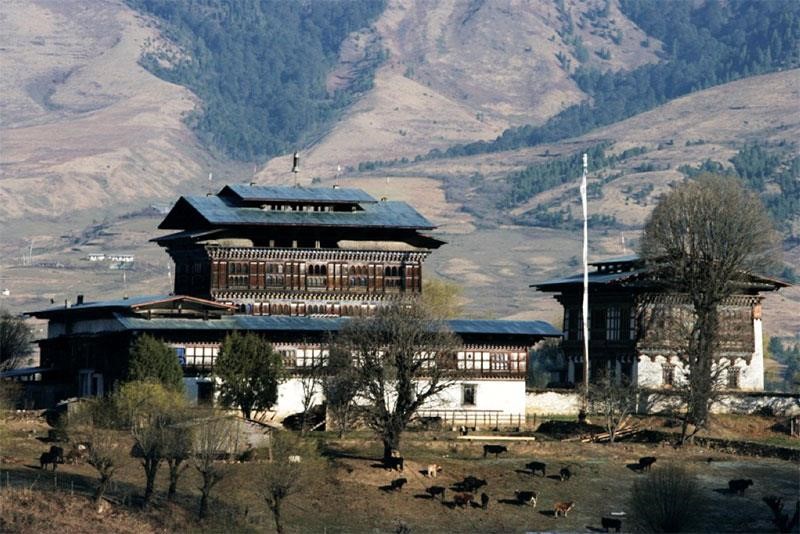 UGYEN-CHOLING PALACE IN TANG VALLEY, BUMTHANG.
DAY 4: BUMTHANG – TRONGSA – PHOBJIKHA VALLEY
The landscape around Trongsa is spectacular and its impressive Dzong, stretched along a ridge above a ravine, first comes into view about an hour before the winding road suddenly leads you into the town. We will visit the massive Trongsa Dzong and If time permits, visit Ta Dzong, the second national museum in the country. This watchtower, which once guarded Trongsa Dzong from internal rebellion, stands on a promontory above the town.
Phobjikha Valley is famous as the seasonal home of the rare black-necked cranes, which spend the winter months here. This is a designated conservation area and has a nature center for conservation studies and the education of local farmers and students funded by Royal Government of Bhutan with assistance from World Wildlife Fund.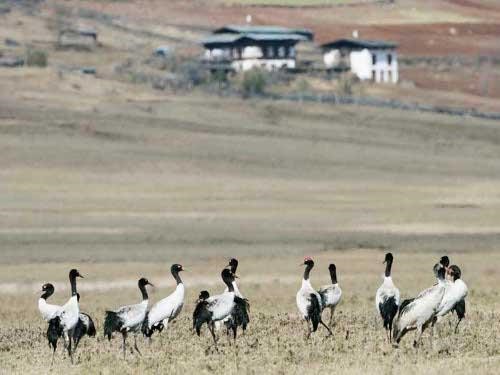 Gangtey Nature Trail: This pleasurable walk will give you a nice feeling for Phobjikha valley. Before the hiking the Nature Trail, visit Gangtey Goemba. Gangtey Goemba is a 16th century monastery situated picturesquely at the hilltop at the edge of Gangtey village, making it the landmark structure of Phobjikha valley. It is the central seat of the Pedling tradition of Buddhism in Western Bhutan, built as a centre of spiritual teaching. The valley is the perfect place for observing wildlife and the serene landscapes of Bhutan. Overnight in Phobjikha.
DAY 5: PHOBJIKHA VALLEY – PUNAKHA
After breakfast, start the drive to Punakha.
Arrive in Punakha and then take a 40 minutes' hike round trip through the rice field to Chimmi Lhakhang, the 15th-century monastery built by Lam Ngawang Chogyal on the spot where his cousin Lam Drukpa Kuenley (popularly known as "the Divine Madman") subdued a powerful demon. This monastery is also referred to as the "Abode of Fertility" and believed that any couple who gets blessing from this temple is blessed with a child in the next year or so.
.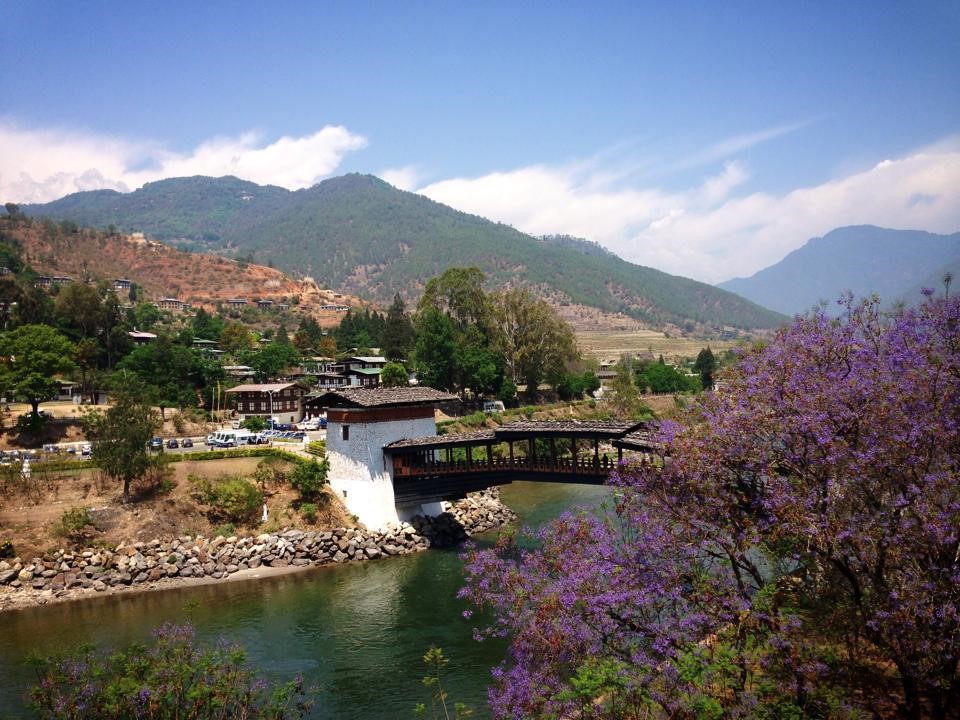 View from Punakha Dzong, old capital of Bhutan.
Visit Punakha's Dzong – The name means Palace of Great Bliss. This dzong stands magnificently on the spit of land where two rivers, Pho chu and Mo chu meet. Punakha Dzong has special significance in Bhutanese history as the place where Bhutan's first King Ugyen Wangchuck was crowned in 1907 and where and the Third King convened the first National Assembly. It is also the winter residence for the Je Khenpo (spiritual leader) and the entire central monk body.
The central monastic body continues to reside here in winter. The embalm bodies of Zhabdrung Ngawang Namgyal and Terton Pema Lingpa are housed on the top floor of the main tower. Overnight in Punakha.
DAY 6: PUNAKHA – THIMPHU
After breakfast, start the incredible drive up to the 3,150-meter-high mountain pass of Dochu La with its forests of fluttering prayer flags, maze of memorial chortens and, on a clear day, sweeping views of the main Himalayan range. Stop to walk around the Druk Wangyel Chorten in Dochu la pass.
Dochu La (pass): 3150 meters.

After lunch, embark on a private guided tour of the city including a visit to the Takin preserve center, the home of Bhutan's national animal Takin.
Memorial Thimphu Chorten: This stupa was built in 1974 to honor the 3rd King of Bhutan, Jigme Dorji Wangchuck. This religious structure, circumambulate only in a clockwise direction (reciting prayers and whirling the large red prayer wheels).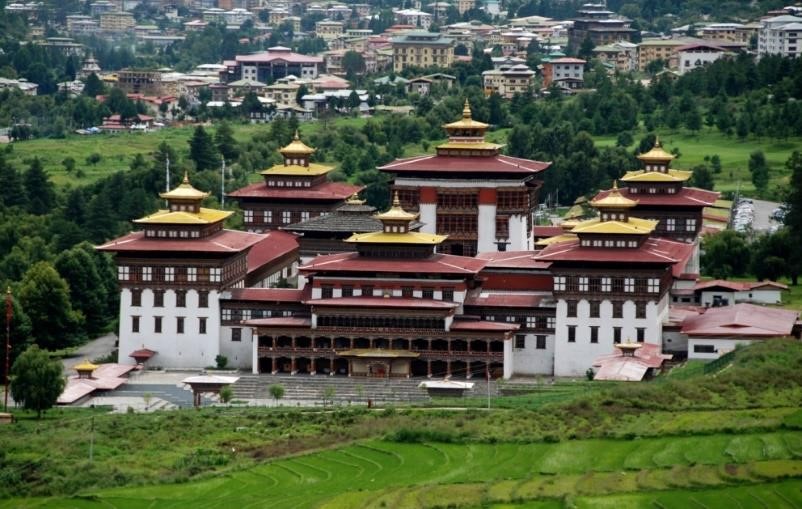 Visit, Tashi-Chho Dzong (Thimphu Dzong): A 17th Century religious and administrative building initially constructed in 1641 and rebuilt by King Jigme Dorji Wangchuck in the 1960s. It is also the summer residence of the Central Monk Body. Overnight in Thimphu.
DAY 7: SIGHT-SEEING IN THIMPHU
After breakfast, we start exploring the region with visits to Buddha Point (Kuensel
Phodrang) to see the one of the world's largest sitting Buddha and enjoy a stunning view of Thimphu valley from this point. After visiting Buddha point, we hike for two hours to Changangkha. Changangkha Monastery, built in 12th century, is one of the oldest temple in Thimphu. It is hovering over a ridge above Thimphu. Lama Phajo Drukgom Zhigpo who came to Bhutan from Ralung in Tibet chose this site to build this monastery. The Lhakhang houses Chenrizig: an 11-headed, thousand-armed manifestation of Avolokitesawara as the central statue. All children born in Thimphu valley worship the deity of Changangkha for spiritual support. Do note that only local men are allowed inside the inner altar room.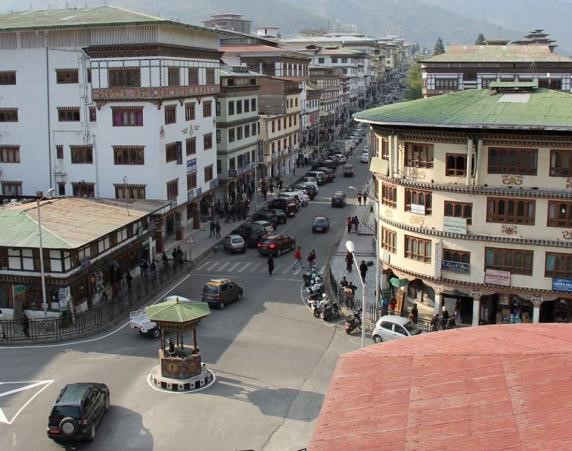 Have lunch in a local restaurant. Later explore Thimphu city center, including a visit to the weekend market (only on weekends) and to witness the National game, Archery (only if local people are playing). Thimphu has a special charm and it is fascinating to sit and watch a gathering of local people in the town square, wearing their traditional dress (Gho for men and Kira for women) and going about their business in a typically unhurried Bhutanese way.
Overnight in Thimphu (alt. 2,300m).
DAY 8: THIMPHU – PARO
Continue exploring the region with visits to Institute of Zorig Chusum: Commonly known as the 13 Arts & Crafts school or Painting school. The institute offers a six year course on the 13 traditional arts and crafts of Bhutan. On a visit, one can see students learning various skills and display of impressive collection of typical household objects, tools and equipment.
After lunch, returning to the confluence you will see the three shrines in Nepali, Tibetan and Bhutanese style that were built to ward off evil spirits near the checkpoint. On the final leg of the drive, the road snakes alongside the Pa Chhu through apple orchards and rice paddies.
Continue exploring the region with visits to the oldest temple in Bhutan, Kichu lhakgang, built in seventh century. Before returning to hotel, visit local farmhouse to try the local rice wine (Ara) and Butter tea with cereals. The farmhouse offers services like hot stone bath. If interested, it is best to do on the next day, especially after climbing tiger nest. (Additional surcharge applies). Overnight in Paro.
DAY 9: HIKE TO TAKTSHANG MONASTERY
After breakfast, you will be driven to the starting point of a hike to view the spectacular Taktshang Monastery (Tiger's Nest). The trail to the monastery climbs through beautiful pine forests, passing trees festooned with Spanish moss, and an occasional grove of fluttering prayer flags.
After a refreshment stop at a cafeteria on the way, you will continue for a short distance until you see, across a deep chasm but clearly and seemingly within reach, the Taktsang Monastery.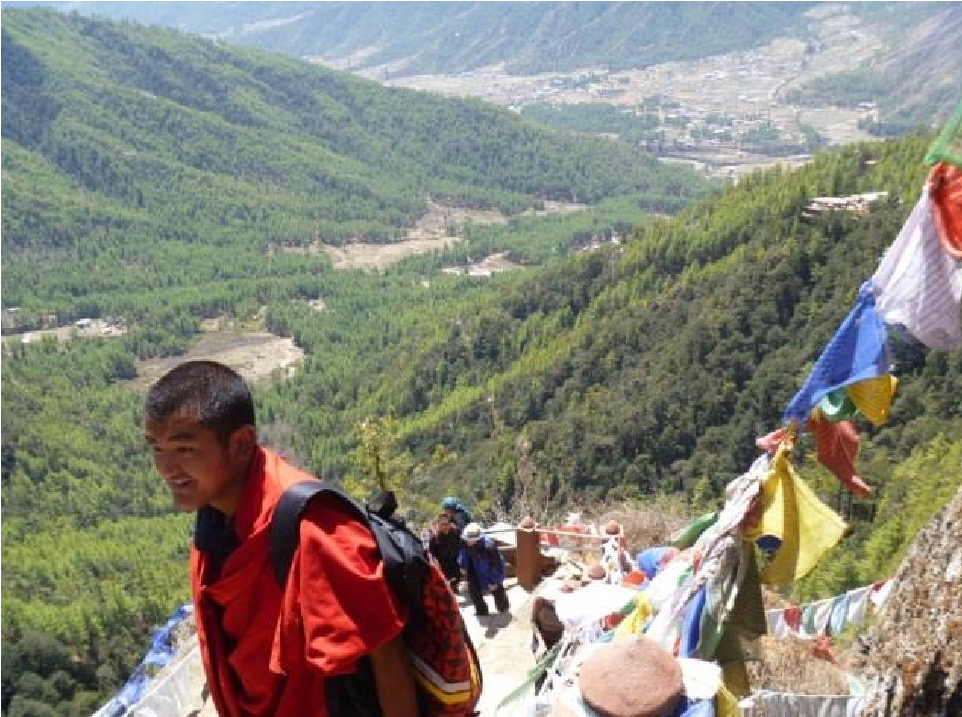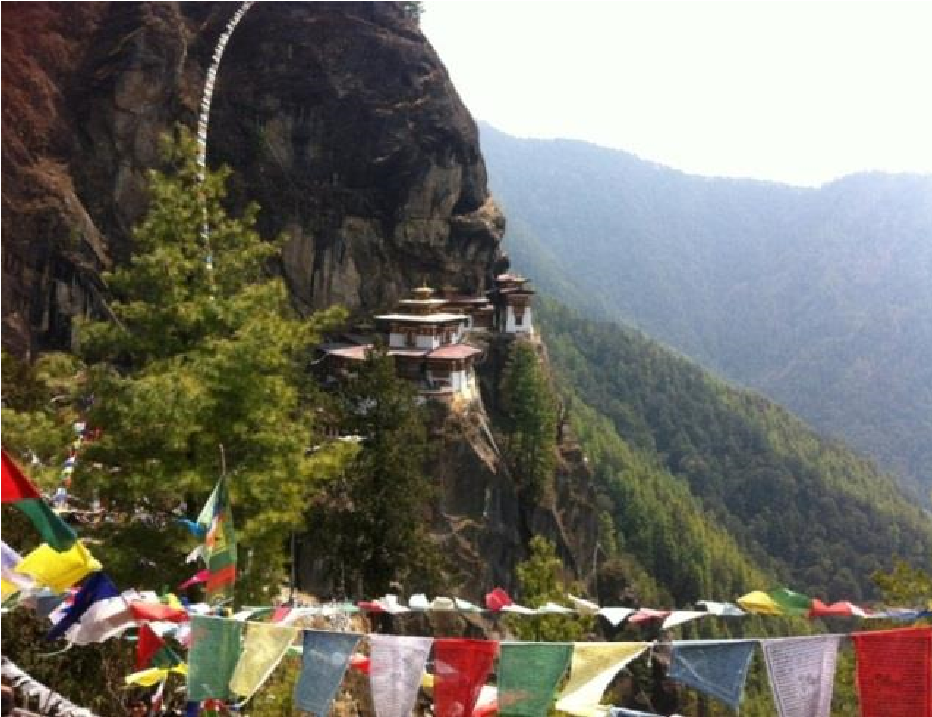 Hike to the Tiger's Nest
Built in 1600s, this incredible monastery clings to the edge of a sheer rock cliff that plunges 900 meters into the valley below. History states that Guru Padmasambhava, the Tantric mystic who brought Buddhism to Bhutan, landed here on the back of a flying tiger. Overnight in Paro.
DAY 10: DEPARTURE
After breakfast, drive to the Paro International airport for your return flight to Bangkok. Tashi Delek !!!
TOUR NOTES:
Our itinerary is generally longer and has more activities listed on each day. You should discuss your itinerary with your guide and prioritize the attractions which you prefer the most. We suggest that you use your itinerary as a guide rather than a fixed schedule. Unexpected stuffs always happen in the Kingdom of Bhutan.
Please note, roads are bumpy and we suggest you to bring your own medication if you have motion sickness.
Monastery, temple and Dzong opening days and times can and do vary with national holidays and events such a visit by a member of the Royal Family or auspicious ceremonies.
Punakha Dzong visiting time are 11.00 – 01.00 pm and 03.00 – 04.45 pm.
Tiger Nest closes at 4 pm every day.
Museums remain closed on weekends and Takin preserve center is closed on Monday.
We advise you to bring good walking shoes, warm jackets, hats and sun cream.
The nearest hospital is 30-minute drive from the hotel in Paro and 20-minute drive in Punakha and Thimphu. Consultation, treatment and medicine are free to locals and tourists too.
Tourist can bring in 800 pieces or 1 box of cigarette upon paying 200% duty or taxes. Smoking is allowed only in designated places.
HOTELS IN BHUTAN
| | | | |
| --- | --- | --- | --- |
| CITIES | HOTELS | HOTEL CATEGORY | ROOM TYPE |
| PARO | KHANGKHU RESORT OR SIMILAR | 3 STAR | STANDARD |
| THIMPHU | TASHI YOEDLING HOTEL OR SIMILAR | 3 STAR | STANDARD |
| PUNAKHA | ZHIMKHANG RESORT OR SIMILAR | 3 STAR | STANDARD |
| BUMTHANG/JAKAR | HOTEL UGYENLING OR SIMILAR | 3 STAR | STANDARD |
| TRONGSA | YANGKHIL RESORT OR SIMILAR | 3 STAR | STANDARD |
WHAT TO BRING DURING THE TOUR IN BHUTAN?
Warm jackets
Hiking/trekking boots
Long and short t-shirts or cotton shirts
Hats and sunglasses
Personal Medicine
DRESS CODE FOR VISITING DZONG, MONASTERIES AND TEMPLES IN BHUTAN
Shirt (either collar half shirt or full sleeve)
Full pants/long skirts
Any type of shoes with socks
No Hats, No Umbrella, No Slippers, No t-shirts, No short skirt and No half-pants
Photographs allowed in the courtyard only.
APPROXIMATE TEMPERATURE IN BHUTAN:
MAX: 18 – 30 DEGREE CELSIUS IN SUMMER
MIN: (minus) 5 – 11 DEGREE CELSIUS IN WINTER
CANCELATION CHARGES FOR YOUR TOUR PACKAGES (LAND TOUR)
More than 30 days – No Charges.
Within 25 days – 30% of rate
Within 15 days – 50% of rate
Less than 10 days or without notice – 100% of rate
Please note that airlines have different cancellation policy, depending on seasons.
PRICE INCLUDES:
3-star Accommodation (twin sharing)  Lunch in local restaurants and hotels.
Experienced English Speaking Tour Guide licensed by Tourism Council of Bhutan.
Private transport within Bhutan (Toyota Bus).
Museum & Monuments entrance fee.  Mineral water during the tour.
Sustainable Development fees
Tourism Development Fund
Visa Fees
International Airfare (BKK- PARO-BKK)
Domestic Airfare
SERVICE NOT INCLUDED IN THE ABOVE MENTIONED COSTS:
Travel and Medical Insurance.
Bar bills, Telephone bills, Personal expenses, Beverages and Laundry.
Tips $10/per person/per day
Other outbound flight tickets
Should you have any further questions, please feel free to contact us at [email protected] or call +975 1793 4039.
Thank you for choosing Bhutan Endless Journey.